MUMBAI: When a train stops between two stations, it is usually assumed to be a signal halt. However, a video that is being circulated widely may make you think twice next time. The clip shows a long-distance AC train stopping between Nalasopara and Vasai stations before arriving in Mumbai on Saturday morning, the assistant loco pilot getting off to relieve himself near the tracks and then returning to the cabin to leave. The entire urinating incident was captured by a Vasai resident, H S Dasoni.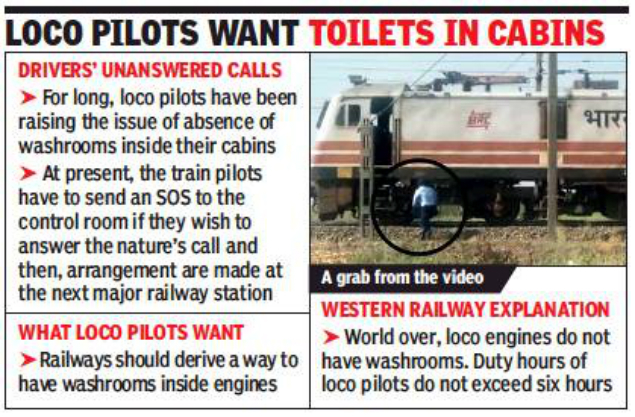 The incident took place around 10.30am when the train, manned by a loco pilot and his assistant, was nearing Vasai station.
Though Western Railway sources clarified that the train had halted due to a technical glitch in the brake pipe and that is when the assistant loco pilot alighted to take a leak, the video shows the rake pulling off as soon as he gets in.
Western Railway spokesperson Ravinder Bhakar said that the dos and don'ts of answering nature's call are mentioned in the working rules of local pilots. "They rarely urinate in the open," he claimed. He said a loco pilot can use the toilets at railway stations and the detention period of a train, if any (beyond its scheduled halt time), is logged into the driver's account.
"Any stoppage of a train and its reasons are relayed to the control room. In case, a driver has alighted to urinate alongside the track, it would have been an emergency and he would have communicated the same to the control room. Also, there would not have been any safety violation as the train must have halted at a mid-section, where there is no danger of another train coming by," explained Bhakar.
Loco pilots said that while they get a 15-20 minute halt at big junctions, the problem start when trains are inordinately delayed. A loco pilot said, "We have been asking the railways to derive a way to have washrooms inside engines. It becomes extremely difficult at times. There are plans to have AC loco cabins and that will make it more difficult for us to hold on till a major station arrives. Like motormen, guards too have been demanding toilets to urinate while on the move. The Travelling Ticket Examiners (TTE) use washrooms inside the coaches, we can't do so."
Motormen on suburban trains say it is worse for them as they cannot use washrooms till they complete their trips. A motorman on the Churchgate-Dahanu section said it takes over 2 hours and 32 minutes to complete a trip. "There is no way we can halt the train and run to the loo. We use the washroom before beginning our journey. In case the train is late, we are in trouble," he said.