A Dorchester man arrested for disorderly conduct Friday after Boston police said he went on a belligerent, racist rant against two black motorcyclists could face civil rights charges.
Paul Sheehan, 54, was arraigned in Dorchester District Court on Monday. He was identified by police as the person on a video taken by a black woman who was one of the targets of his tirade.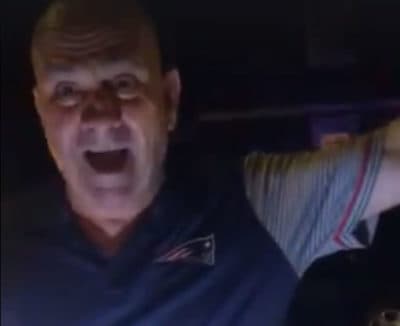 The video was posted on Facebook over the weekend and has since gone viral, with 17,000 shares as of Tuesday afternoon. It shows Sheehan challenging the woman about being in his neighborhood and screaming at her and a Boston police officer who intercedes.
In the video, Sheehan calls the motorcyclists "animals" and threatens them with violence if they do not "get out of [his] neighborhood."
The incident began about an hour after a car being pursued by police smashed into another car and a fence at the corner of Beaumont and Adams streets.
The confrontation happened just feet away from the scene of the crash, which was followed by a foot chase and the arrest of a 31-year-old Dorchester man. The man was allegedly fleeing police after striking a pedestrian on Dorchester Avenue.
According to a police report obtained by the Dorchester Reporter, an officer was blocking traffic at the corner of Chelmsford and Adams streets around 10:30 p.m. when he observed Sheehan screaming at the two motorcyclists, a black male and female who said they had pulled over to get directions after a detour.
Upon hearing Sheehan shouting profanities at the motorcyclists, the officer rushed to separate them, according to the report. In the video, the officer notes that Sheehan had been drinking, and tells him he is "out of control."
Sheehan left the scene, but later returned. The officer watched him walking up Adams Street screaming a racial slur and pulling on a traffic sign pole.
According to the BPD report, Sheehan was repeatedly yelling "F— that [N-word]."
Sheehan was released on personal recognizance and is due to appear back in court in October.
Officer Steven McNulty says the department's Civil Rights Division will investigate the incident as a potential hate crime.
A person close to the situation tells the Reporter that Sheehan has been removed from service at his job at Keolis, which operates the MBTA commuter rail.
In a statement, a Keolis spokesperson would not confirm Sheehan has been removed, but said the company has "absolutely no tolerance for this type of reprehensive conduct or language."
Noah De Amor, a business owner and community activist in Dorchester, says Sheehan's tirade was typical of "the old school Dorchester."
"Anybody looking at this incident has to understand that even though people of different races may live near each other in Dorchester, there's still a lot of segregation," he said, noting that the Adams Village neighborhood where the incident occurred remains a white enclave.
De Amor said Dorchester is diversifying, and it's evident from the Facebook video that some people aren't OK with the changes.
"It's almost like you cross a line in Dorchester and you walk into almost exclusively white neighborhoods all of a sudden — your sense of belonging changes drastically," he said.
With reporting by WBUR's Simón Rios. WBUR and the Reporter have a partnership in which the news organizations share resources to collaborate on stories